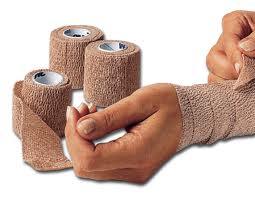 3M Coban Self Adhesive Bandage Wrap, Beige.
Convenient – Sticks to itself without the need for adhesive, pins or clips
Secure – Wrap stays in place; eliminates the need for frequent readjustment
Comfortable – Lightweight, porous and breathable
Versatile – Used to secure and protect primary dressings and other devices. Also helps immobilize injuries and provide compression
Available in: 1", 2", 3" AND 4"