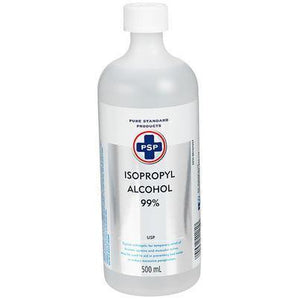 Isopropyl Rubbing Alcohol 99% 500mL
FIRST AID ANTISEPTIC - With highest quality this ultra-high purity isopropyl alcohol contains no added water or other ingredients, so you can find it in many everyday products.

MULTIPLE USES – Our rubbing alcohol can be used as an industrial cleaner for machinery and parts, screen cleaner and other surfaces cleaner, as hand sanitizer, disinfectant and gel nail polish remover for cleaning the surface of the nails and give maximum nail shine, which makes this Isopropyl alcohol something you MUST HAVE at your home.

T

REATMENT OF MINOR CUTS AND SCRAPES – This tropical antiseptic solution is a perfect way to clean and disinfects your skin and pores, frequently used at tattoo shops to clean bacteria off of the skin before a tattoo or piercing, and the 99 % Isopropyl Alcohol will help you to prevent and fight the risk of infection.
---
We Also Recommend