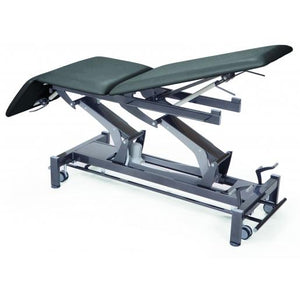 Montane Atlas 3-Section Table
3 section treatment table
Electric high/low height adjustment from 19-40 (49-101cm) for easy and safe patient transfer and adjustment to the ideal working height for treatment.
Easy access foot switch accessible from any position around the table
360 for simple height adjustment.
Features smooth vertical lift with a capacity up to 330 lbs.
Available in 4 casters or 2 wheel versions.
Motorized adjustable middle section with postural drainage model (optional equipment).
Adjustable head support - positive/negative inclinations.
Face hole on head section with removable cushion.
Side brackets for stabilizing belts are standard equipment.
Gas Springs assist in the adjustment of head and foot sections.
Weight: 242 lbs.
Dimensions: 79 L x 27 W x 19-40 H.
Lifting Capacity: 450 lbs.
Please contact for more information and pricing.